Everyone knows the tale, everyone knows the monster. The famous story of King Kong is one of the most recognized stories on the planet, along with Godzilla, Frankenstein and a few others. So when I decided to watch King Kong I was ready for a trip down nostalgia lane.
A group of film-maker's travel across the sea to film on 'Skull Island'. Carl Denham, the films director, knows of a large beast living on the island, and wants to capture it. As the group head further and further into the wilderness of the island, more and more catastrophic events unfold before their eyes.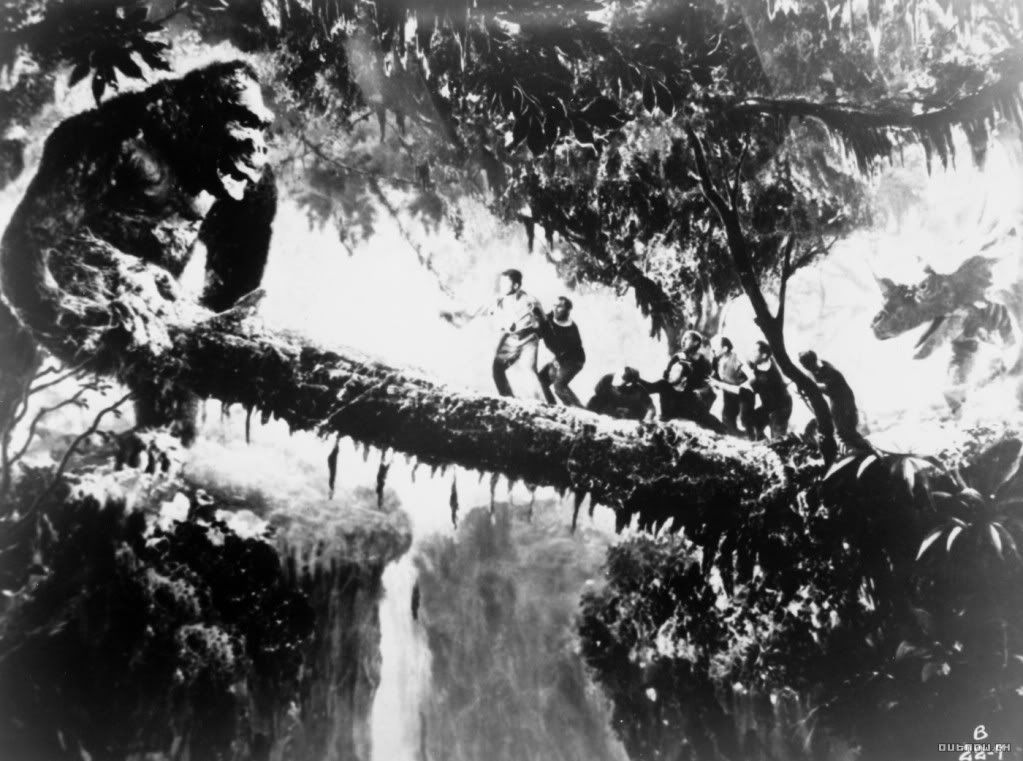 In its day, King Kong was a colossal technical achievement: The stop-motion technology employed in the film was certainly ahead of it's time, hardly being bettered until Jurassic Park came along in 1993. That's 60 years. Despite it having the façade of being prehistoric, it has a certain uncanny tone, which is perfect for this story of exploring the unknown. And that's something that animation just doesn't have anymore.
Just as prehistoric as the animation is the acting. The majority of the performances are stiff and hammy, with many an awkward moment thrown in between. Most of the dialogue is stark and, troubles me to say, plain. Basically put, the performances aren't of today's standard and are seldom immaculate.
That isn't all though. After a discomforting first half an hour the film heads into full throttle with the appearance of Kong. Becoming a tour de force, King Kong never slows down. You'll be lucky to catch you're breath in-between each powerful and extraordinary scene. This remarkable storytelling of King Kong is perfect; as long as you don't mind one or two debauched scenes (there is a scene where racism is imminent).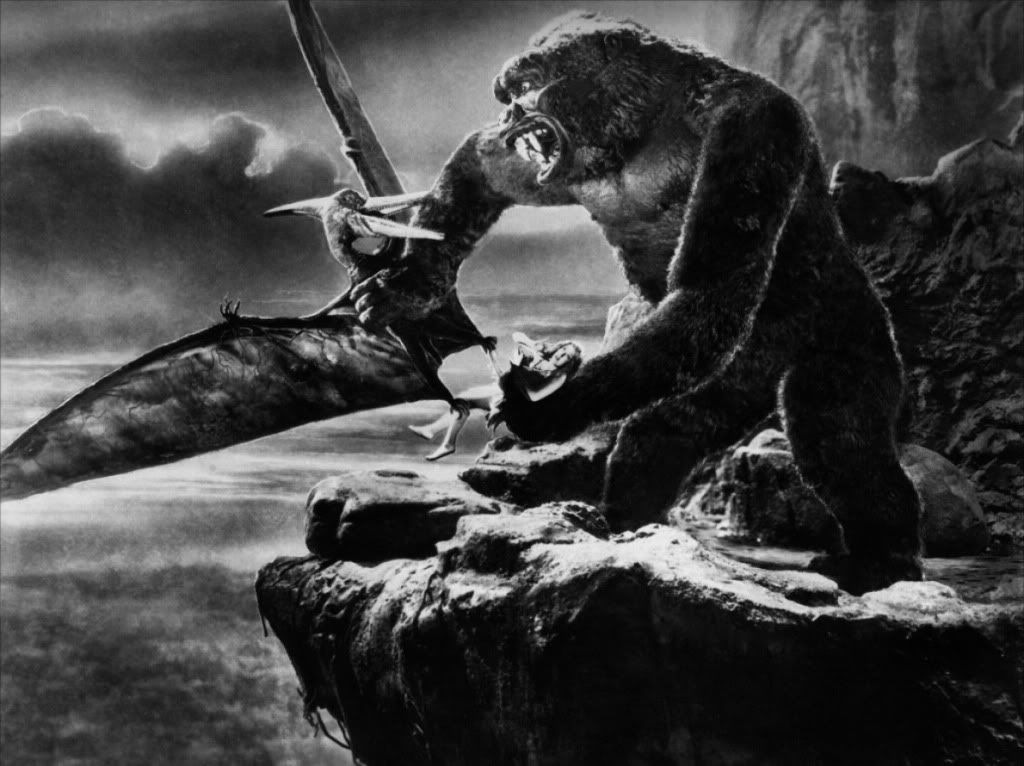 As the film reaches its climatic end, there is a scene that is no-doubt one of the most iconic images in the history of cinema. Planes are flying and people are panicking, and amidst all this terror and fear is a large gorilla, doing what he thinks is right. He has destroyed trains as opposed to snakes, he has smashed planes as opposed to pterodactyls, and all for love. Trapped in this unknown-yet-familiar city, a concrete jungle if you will, there is this large cruel beast who is absolutely terrified. Then, as he reaches the top of the Empire State Building, he is shot down. This is incredibly mortifying. A large cruel beast who was feared by everyone was, in the end, just trying to be reunited with his love. This goes to show that everything, no matter what size, has compassion and feeling. Completely realizing this, Carl Denham says the famous line "It was beauty killed the beast.". And it is ever so true.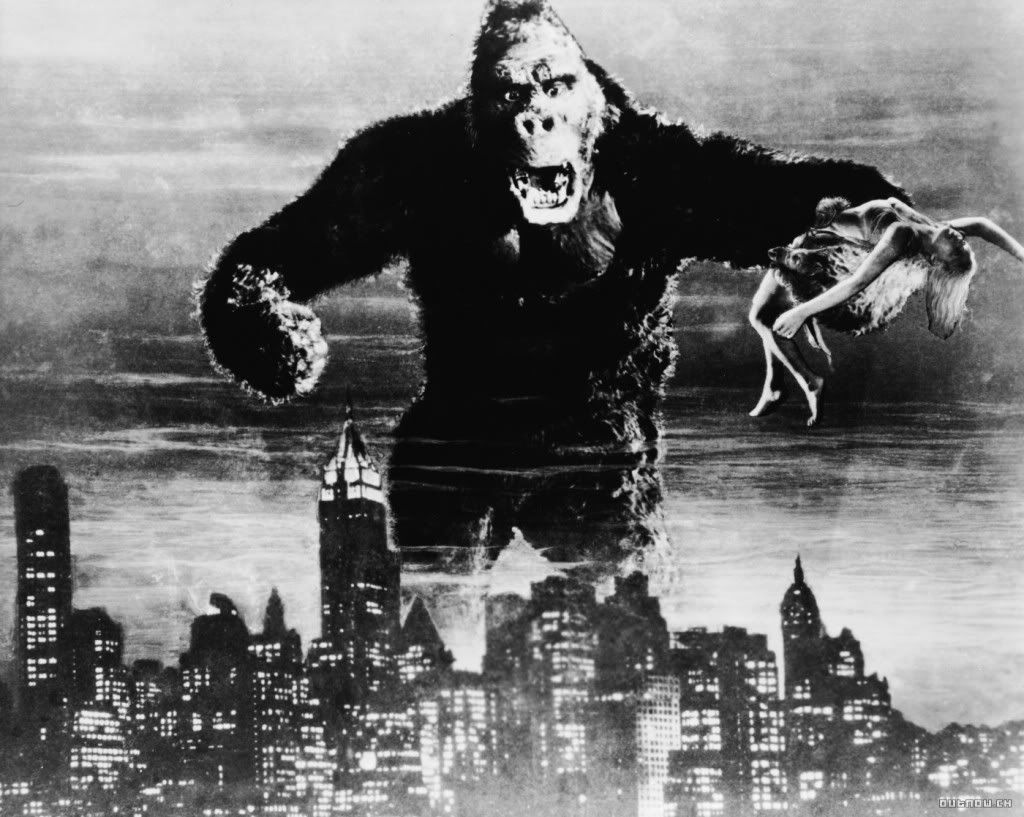 It's rigid, hammy and clichéd at timeS, but what is so spectacular is the tone King Kong gives. The animation is ahead of its time, not only giving an iconic image of Kong, but giving it an atmospheric ambiance. It tells the classic story of Kong with perfection and ease, as well as providing a deep moral nuance. I don't know how it's done it, but King Kong has withheld the test of time and has still proven to still be the great film it was years ago. 

1 year ago
|
0 notes
|
Reblog
|
king kong
,
1933
,
movie
,
film
,
review
,
adventure
,
fantasy
,
horror
,
5
,
finn nahon
,
ernest b. schoedsack
,
merian c. cooper
,